At Wickes, we're building a space where anyone - no matter who they are or where they're from - can feel at home.
It means that everyone can bring their authentic selves to work, knowing their safety, happiness and wellbeing is at the heart of our thinking. We know there's always more to be done. We've laid the foundations. Now, brick by brick, we'll continue to evolve and make changes until everyone at Wickes feels at home.
Our Networks
As part of our Balance for Better workstream, we passionately believe that a balanced organisation is a great support for colleagues, it's felt by our customers and will further enhance our brand and performance.
Our colleagues' financial, mental and physical wellbeing is at the heart of everything we do. That's why we take time to make everyone feel like they belong, they're heard, and they're supported
Our Pride Network aims to ensure that all of our LGBTQ+ colleagues feel at home at Wickes. That they have the same career opportunities as everyone else and that they have a safe space to be themselves
We believe that when different backgrounds, different cultures, different nationalities, and different perspectives come together, we'll be more creative, more inclusive and more productive.
We want to create a business that is ready for the future. We are invested in our colleagues and the environment and creating a business where everyone can thrive, regardless of age and experience. We aim to support everyone in building a better future for themselves, their families, and their communities.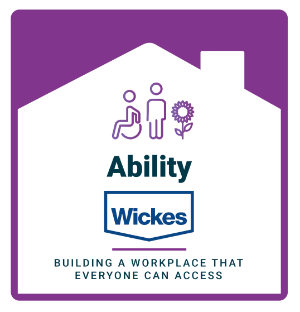 Ability is a colleague network that supports people with disabilities and long term health conditions. Our aim is to build a workplace that everyone can access and that supports our colleagues' needs while understanding the potential impacts of different conditions.